In December of 2013, Rodex Enterprises officially opened their doors. What business owners Joe & Eileen bring to the newly opened facility is over 29 years experience in Home Development & Improvement. From there they realized a passion towards custom stonework, and chose it to be their primary focus. Rodex Enterprises Corp began their Art in the form of Stone. Rodex's focus is on stone fabrication, and specialize in a wide range of stone types. Our expertise is heavily emphasized on fabrication & installation of Dekton, Quartz, Granite, Quartzite, Marble, Exotic natural stone, and Semi-precious natural stone. Because it is custom you have all the control and we work with you along the way to make the process hassle-free! We welcome all sorts of projects whether you are a home owner, home builder, designer, architecture, or contractor. We will always provide you with quality custom-made stonework while also giving you the quality service you're looking for! Come visit us at our showroom and from here we can work together to make your home into how you've always imagined it!
JOE CHE – Business Owner & Lead Fabricator
Joe has over 29+ years experience in the field of Home Development. Over the years he began to realize his true passion for Custom Stonework and opened Rodex Enterprises Corp. Together with his knowledge of Home Development and his passion for stone he works to create art in the form of custom stonework pieces. Within each and every counter-top, fireplace and other custom stonework he brings out the beauty of the stone. Truly he pushes his passion and artistic mind beyond the limits to bring you quality.

Business Owner & Office Manager – EILEEN CHE
Eileen's first passion began in the field of criminology, where she uses her sense of equality and engages it within Rodex Enterprises Corp. She emphasizes fairness and brings a very personal feel into the Rodex atmosphere. She uses her experts in customer relations to manage the office and her attention to detail gives all projects the appropriate care and focus. When she is not tending to her 7 beautiful children, she is working to bring you knowledge about the custom stonework process, and maintaining her quality service into all projects.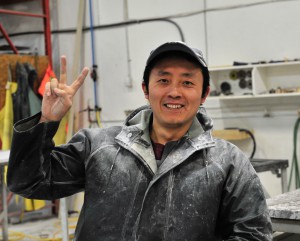 GARY LIANG – Fabricator & Installer

Gary began at Rodex with already 11 years of experience in Stone Fabrication. He uses his calculating personality to create precise cuts and smooth polishes. With his passion for perfection he brings that extra beauty to the stone and brings a positive experience for all clients and team members. When he is not at Rodex; he is with his beautiful children or busy body building.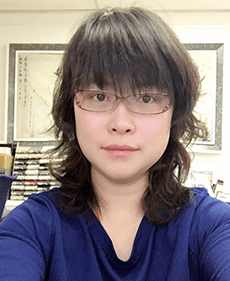 Office Administration & Sales – Tracy Ji
Tracy Ji has graduated from University of Lethbridge since 2006. Her major is marketing, and she also has more than 15 years of working experiences in administration field. She loves drawing and baking, and enjoys working in Rodex so much.